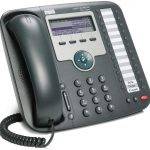 CISCO IP PHONE 7931G NEW
CISCO IP PHONE 7931G NEWThe Cisco 7931G features 24 programmable keys with busy lamp fields, ideal for using as extensions or one-touch speed dial buttons. A user-friendly interface lets users quickly access the phone's features and functions. This is a great VoIP phone for a variety of user types.C…
Description
Additional information
Description
CISCO IP PHONE 7931G NEW
The Cisco 7931G features 24 programmable keys with busy lamp fields, ideal for using as extensions or one-touch speed dial buttons. A user-friendly interface lets users quickly access the phone's features and functions. This is a great VoIP phone for a variety of user types.
Cisco 7931G VoIP Phone Quick Specs:
Connectivity Type: IP/VoIPLine Appearances: ۳Speakerphone: full duplexNetwork Connections: ۲x 10/100 EthernetPoE: yesProtocol Support: SIP, SCCPDisplay: monochrome, 192×64Aux Interfaces: headset port
Cisco Unified IP Phone 7931G Package Contents:
Note: does not include AC power supply.
Cisco CP-7931G-RF consoleHandset with cordNetwork cableQuick start guide
CISCO
۷۹۳۱G PHONE – CP-7931G-RF SPECIFICATIONS:
Product
Description      Cisco Unified IP Phone
۷۹۳۱G – VoIP phone
Product
Type    VoIP phone
Main
Features  Integrated Ethernet switch,
Power over Ethernet (PoE) support
VoIP
Protocols SCCP
Voice
Codecs   G.729a, G.729ab, G.711u, G.711a
Speakerphone   Yes ( digital duplex )
Display LCD display – monochrome
Display
Features           Backlit
Network
Ports Qty        ۲ x Ethernet
۱۰/۱۰۰Base-TX
General
Product
Type    VoIP phone
Phone
Features
Dialer
Type      Keypad
Dialer
Location Base
Speakerphone   Yes ( digital duplex )
Call
Transfer    Yes
Call
Hold         Yes
Message
Waiting Capability      Yes
Menu
Operation           Yes
Function
Buttons          Transfer button, menu
navigation keys, hold button, redial button
Programmable
Buttons Qty       ۲۴
Volume
Control Yes
Ringer
Control Yes
Ring
Tones       ۲۴
Indicators         Voice message waiting indicator
Firmware
Upgradable   Yes
IP
Telephony
Main
Features  Integrated Ethernet switch,
Power over Ethernet (PoE) support
VoIP
Protocols SCCP
Voice
Codecs   G.729a, G.729ab, G.711u, G.711a
Quality
of Service        IEEE 802.1Q (VLAN), IEEE
۸۰۲٫۱p
IP
Address Assignment DHCP
Security           ۱۲۸ bit AES
Network
Protocols        TFTP, Cisco Discovery
Protocol (CDP)
Network
Ports Qty        ۲ x Ethernet
۱۰/۱۰۰Base-TX
Voice
Features Comfort noise generation (CNG),
voice activity detection (VAD)
Display
Type    LCD display – monochrome
Display
Location          Base
Line
Qty           ۳
Display
Resolution       ۱۹۲ x 64 pixels
Features           Backlit
Miscellaneous
Connections     ۱ x headset jack
Dimensions
& Weight (Base)
Width   ۸٫۸ in
Depth   ۹ in
Height  ۷ in
Weight 3 lbs
Additional information
| | |
| --- | --- |
| Weight | 1.360 Kg |
| Network Ports Qty | 2 x Ethernet 10/100Base-TX |
| Ringer Control | Yes |
| Ring Tones | 24 |
| Firmware Upgradable | Yes |
| Display Resolution | 192 x 64 pixels |
| Programmable Buttons Qty | 24 |
| Width: | 22.3 Cm |
| Features | Backlit |
| Indicators | Voice message waiting indicator |
| Call Transfer | Yes |
| call hold | Yes |
| Line Qty | 3 |
| Connections | 1 x headset jack |
| Depth: | 22.8 Cm |
| Height: | 17.7 Cm |
| Security | 128 bit AES |
| Manufacturer | Cisco |
| Function Buttons | Hold button, menu navigation keys, redial button, Transfer button |
| Quality of Service | IEEE 802.1p, IEEE 802.1Q (VLAN) |
| IP Address Assignment | DHCP |
| Voice Codecs | G.711a, G.711u, G.729a, G.729ab |
| VoIP Protocols | SCCP |
| Main Features | integrated Ethernet switch, Power over Ethernet (PoE) support |
| Display Location | Base |
| Display Type | LCD display – monochrome |
| Voice Features | Comfort noise generation (CNG), voice activity detection (VAD) |
| Menu Operation | Yes |
| Speakerphone | Yes ( digital duplex ) |
| Dialer Location | Base |
| Dialer Type | Keypad |
| Product Type: | IP Phone |
| Model: | CP-7931G |
| Network Protocols | Cisco Discovery Protocol (CDP), TFTP |
| Condition | New |